Airport in Sicily
Airports in Sicily - international and regional
There are two major international airports in Sicily. The largest one is the airport of Catania "Fontanarossa" on the east coast and the second largest is the Airport "Falcone e Borsellino" in Palermo on the northwest coast. The airport "Fontanarossa" is located just 5 km outside the city of Catania and can be reached regularly by public transport. In Palermo, on the other hand, the airport is located 35 km outside the city at Punta Raisi, but is also connected to the city center of Palermo by public transportation.
Other airports are the airport of Trapani named "Birgi" (used especially by Ryanair and Alitalia) and Ragusa Comiso Airport, which also serves as an alternate airport for Catania Fontanarossa, when the ash of the volcano Etna prevents air traffic.
The smallest airport is located on the island of Pantelleria in the Mediterranean Sea off Sicily. Airlines such as Alitalia or Ryanair fly to this airport from Italy - no airline currently flies directly to this airport from Germany.
The airport of Reggio Calabria in Calabria can also be used if you want to travel to the north of Sicily. By car, you can take a car ferry from San Giovanni in Calabria to the port of Messina in Sicily every 40 minutes.
A flight from Berlin to Sicily takes about 2 hours and 30 minutes and is mainly offered by the airlines EasyJet, Eurowings, Lufthansa, Tuifly and Ryanair.
Once you have booked your flight to Sicily, we can offer you luxury villas, villas, vacation homes, apartments, and special arrangements for group travel in Sicily.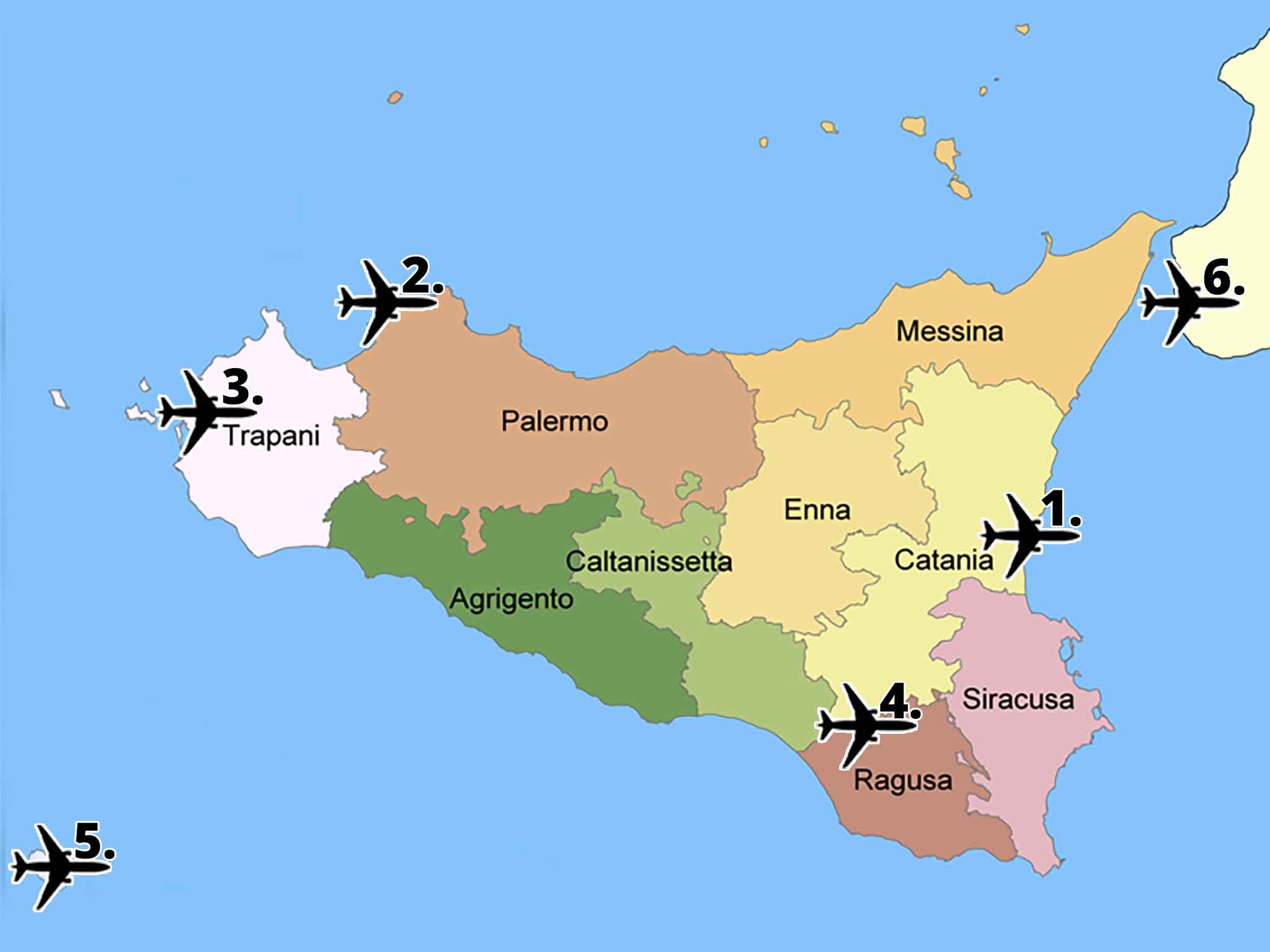 Where are the airports in Sicily located?
Airport Catania "Fontanarossa"
Airport Palermo "Falcone e Borsellino"
Airport Trapani "Birgi"
Airport Ragusa Comiso
Airport Pantelleria
Airport Reggio Calabria in Calabria